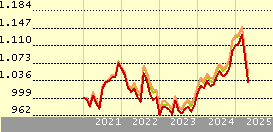 Sintesi
NAV
15/03/2018
 
USD 112,970
Var.Ultima Quotazione
 
0,18%
Categoria Morningstar™
 
Obbligazionari Corporate Globali - USD Hedged
Categoria Assogestioni
 
-
Isin
 
LU1143726096
Fund Size (Mil)
15/03/2018
 
EUR 1028,23
Share Class Size (Mil)
28/02/2018
 
USD 0,58
Entrata (max)
 
-
Spese correnti
19/02/2018
 
0,98%

*  Questa analisi è stata scritta per una differente classe dello stesso fondo, per cui potrebbero esserci differenze nel rendimento e nel profilo commissionale.
Analyst Report
With its experienced and stable team, solid process, strong parent company, and below-average fees, this fund ticks all the boxes. The fund is accordingly upgraded to a Morningstar Analyst Rating of Silver. This fund has been managed by Victor...
Clicca qui per leggere l'analisi
Pilastri Morningstar
Persone
Positive
Società
Positive
Processo
Positive
Performance
Positive
Costi
Positive
Obiettivo d'Investimento Dichiarato: Robeco Global Credits DH $
The fund aims to provide long term capital growth. The fund invests at least two-thirds of its total assets in non-government bonds and similar non-government fixed income securities and asset backed securities from all around the world. The fund strives for economic results, while at the same time taking into account environmental, sustainable and social objectives. In the assessment, areas such as a company's corporate strategy, corporate governance, transparency, as well as the product and service range that a company offers are taken into account.
Rendimenti % (EUR)
| | |
| --- | --- |
| Rendimenti % (EUR) | 15/03/2018 |
| YTD | -3,89 |
| 3-Anni Ann.ti | -2,07 |
| 5-Anni Ann.ti | - |
| 10-Anni Ann.ti | - |
Gestione
Nome del Gestore
Inizio Gestione
Victor Verberk
04/06/2014
Data di Partenza
26/11/2014
Indice
Benchmark Dichiarato
Indice di Categoria Morningstar
BBgBarc Global Agg Corp TR Hdg EUR
BBgBarc Gbl Agg Corp 0901 TR Hdg USD
Target Market
Role In Portfolio
Standalone / Core
Non specifico
Component
Non specifico
Altro
Non specifico
Primary Objective
Conservazione
Non specifico
Growth
Si
Reddito
Si
Hedging
Non specifico
Altro
Non specifico
Composizione del Fondo  Robeco Global Credits DH $
31/01/2018
Reddito Fisso
Maturity effettiva
7,69
Duration Effettiva
6,04
Morningstar Style Box®
Reddito Fisso
Asset Allocation
 
% Lunga
% Corta
% Netta
Azioni
0,00
0,00
0,00
Obbligazioni
75,42
1,01
74,41
Liquidità
45,14
36,00
9,15
Altro
16,45
0,00
16,45