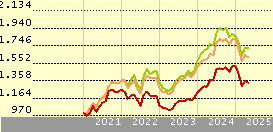 Sintesi
NAV
24/06/2016
 
USD 126,270
Var.Ultima Quotazione
 
0,63%
Categoria Morningstar™
 
Azionari India
Categoria Assogestioni
 
Azionari paese
Isin
 
LU0231490524
Fund Size (Mil)
31/05/2016
 
USD 3663,83
Share Class Size (Mil)
24/06/2016
 
USD 434,59
Entrata (max)
 
6,38%
Spese correnti
04/05/2016
 
2,15%
Analyst Report
In what has become a most competitive landscape within emerging markets, Aberdeen India Equity builds a solid case for inclusion.

Management of the strategy sits within the firm's Asian equities team led by the experienced Flavia Cheong. Cheong...
Clicca qui per leggere l'analisi
Pilastri Morningstar
Persone
Positive
Società
Neutral
Processo
Positive
Performance
Neutral
Costi
Neutral
Obiettivo d'Investimento Dichiarato: Aberdeen Global - Indian Equity Fund A2
Ottenere una combinazione di reddito e crescita, investendo prevalentemente in azioni di società aventi sede, o che svolgono gran parte della propria attività, in India.
Rendimenti % (EUR)
| | |
| --- | --- |
| Rendimenti % (EUR) | 24/06/2016 |
| YTD | -0,33 |
| 3-Anni Ann.ti | 19,36 |
| 5-Anni Ann.ti | 9,49 |
| 10-Anni Ann.ti | 11,79 |
Gestione
Nome del Gestore
Inizio Gestione
Hugh Young
24/03/2006
Data di Partenza
24/03/2006
Benchmark di Categoria
Benchmark Dichiarato
Benchmark Morningstar
MSCI India NR USD
MSCI India NR USD
Composizione del Fondo  Aberdeen Global - Indian Equity Fund A2
31/05/2016
Morningstar Style Box®
Stile Azionario
Asset Allocation
 
% Lunga
% Corta
% Netta
Azioni
99,01
0,00
99,01
Obbligazioni
0,00
0,00
0,00
Liquidità
7,83
6,83
0,99
Altro
0,00
0,00
0,00
| | |
| --- | --- |
| Prime 5 Regioni | % |
| Asia - Emergente | 100,00 |
| Stati Uniti | 0,00 |
| Giappone | 0,00 |
| Australasia | 0,00 |
| Asia - Paesi Sviluppati | 0,00 |
Primi 5 Settori
%
Finanza
20,66
Tecnologia
17,30
Materie prime
16,62
Beni di consumo difensivi
16,49
Salute
10,47