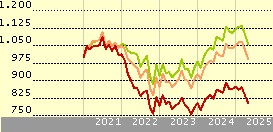 Sintesi
NAV
02/10/2015
 
USD 53,025
Var.Ultima Quotazione
 
-0,61%
Categoria Morningstar™
 
Azionari Paesi Emergenti
Categoria Assogestioni
 
Azionari paesi emergenti
Isin
 
LU0132412106
Fund Size (Mil)
31/08/2015
 
USD 5840,82
Share Class Size (Mil)
02/10/2015
 
USD 1952,98
Entrata (max)
 
6,38%
Spese correnti
31/03/2015
 
2,04%
Analyst Report
The Aberdeen Global Emerging Markets fund remains an outstanding option for exposure to global emerging markets.

The Aberdeen Emerging Markets team is impressive. Overseen by Head of Equities Hugh Young, the team is one of the more stable in the...
Clicca qui per leggere l'analisi
Pilastri Morningstar
Persone
Positive
Società
Neutral
Processo
Positive
Performance
Positive
Costi
Neutral
Obiettivo d'Investimento Dichiarato: Aberdeen Global - Emerging Markets Equity Fund A2 USD Acc
L'obiettivo d'investimento del Fondo è ottenere un rendimento complessivo nel lungo termine da perseguire attraverso l'investimento di almeno due terzi del patrimonio del Fondo in azioni e titoli correlati ad azioni di società aventi sede legale nei paesi dei Mercati Emergenti e/o di società che operano principalmente nei paesi dei Mercati Emergenti e/o di holding che possiedono la maggior parte delle loro attività in società aventi sede legale in paesi dei Mercati Emergenti.
Rendimenti % (EUR)
| | |
| --- | --- |
| Rendimenti % (EUR) | 02/10/2015 |
| YTD | -8,50 |
| 3-Anni Ann.ti | -2,52 |
| 5-Anni Ann.ti | 1,35 |
| 10-Anni Ann.ti | 7,69 |
Gestione
Nome del Gestore
Inizio Gestione
Devan Kaloo
15/08/2001
Mark Gordon-James
04/05/2004
Click here to see others
Data di Partenza
15/08/2001
Benchmark di Categoria
Benchmark Dichiarato
Benchmark Morningstar
MSCI EM NR USD
MSCI EM NR USD
Composizione del Fondo  Aberdeen Global - Emerging Markets Equity Fund A2 USD Acc
31/08/2015
Morningstar Style Box®
Stile Azionario
Asset Allocation
 
% Lunga
% Corta
% Netta
Azioni
98,89
0,00
98,89
Obbligazioni
0,00
0,00
0,00
Liquidità
0,81
0,58
0,22
Altro
0,88
0,00
0,88
| | |
| --- | --- |
| Prime 5 Regioni | % |
| Asia - Emergente | 35,22 |
| America Latina e Centrale | 20,50 |
| Asia - Paesi Sviluppati | 18,63 |
| Europe dell'Est | 12,29 |
| Regno Unito | 4,62 |
Primi 5 Settori
%
Finanza
27,42
Beni di consumo difensivi
18,18
Beni di consumo ciclici
11,36
Tecnologia
10,42
Materie prime
9,65