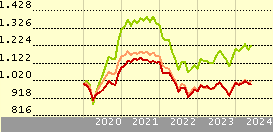 Sintesi
NAV
13/12/2018
 
EUR 9,670
Var.Ultima Quotazione
 
0,21%
Categoria Morningstar™
 
Obbligazionari Convertibili Globali - EUR hedged
Categoria Assogestioni
 
-
Isin
 
LU0946222121
Fund Size (Mil)
12/12/2018
 
EUR 950,64
Share Class Size (Mil)
12/12/2018
 
EUR 4,43
Entrata (max)
 
5,00%
Spese correnti
25/05/2018
 
0,95%

*  Questa analisi è stata scritta per una differente classe dello stesso fondo, per cui potrebbero esserci differenze nel rendimento e nel profilo commissionale.
Analyst Report
An experienced manager and disciplined process are still key strengths here. The fund had been managed since launch by Miles Geldard and Lee Manzi, who joined Jupiter in 2010 and have been working together for close to two decades managing...
Clicca qui per leggere l'analisi
Pilastri Morningstar
Persone
Positive
Società
Positive
Processo
Positive
Performance
Positive
Costi
Neutral
Obiettivo d'Investimento Dichiarato: Jupiter Global Fund - Jupiter Global Convertibles Class D EUR A Inc
To achieve long term capital growth through investment on a global basis in a diversified portfolio of convertible securities.
Rendimenti % (EUR)
| | |
| --- | --- |
| Rendimenti % (EUR) | 13/12/2018 |
| YTD | -5,48 |
| 3-Anni Ann.ti | - |
| 5-Anni Ann.ti | - |
| 10-Anni Ann.ti | - |
Gestione
Nome del Gestore
Inizio Gestione
Lee Manzi
01/10/2010
Data di Partenza
24/02/2017
Indice
Benchmark Dichiarato
Indice di Categoria Morningstar
TReuters Global Focus Hedged CB TR EUR
TReuters Global Hedged CB TR EUR
Target Market
Role In Portfolio
Standalone / Core
Non specifico
Component
Non specifico
Altro
Non specifico
Primary Objective
Conservazione
Non specifico
Growth
Si
Reddito
Non specifico
Hedging
Non specifico
Altro
Non specifico
Composizione del Fondo  Jupiter Global Fund - Jupiter Global Convertibles Class D EUR A Inc
31/08/2018
Morningstar Style Box®
Stile Azionario
Morningstar Style Box®
Reddito Fisso

Asset Allocation
 
% Lunga
% Corta
% Netta
Azioni
0,36
0,00
0,36
Obbligazioni
15,70
0,00
15,70
Liquidità
114,71
109,30
5,42
Altro
78,53
0,00
78,53
Reddito Fisso
Maturity effettiva
-
Duration Effettiva
-

| | |
| --- | --- |
| Prime 5 Regioni | % |
| Stati Uniti | 100,00 |
| Canada | 0,00 |
| America Latina e Centrale | 0,00 |
| Regno Unito | 0,00 |
| Europa Occidentale - Euro | 0,00 |
Primi 5 Settori
%
Beni industriali
100,00