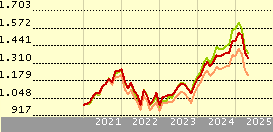 Sintesi
NAV
11/12/2018
 
USD 12,330
Var.Ultima Quotazione
 
0,87%
Categoria Morningstar™
 
Azionari Internazionali Large Cap Growth
Categoria Assogestioni
 
-
Isin
 
LU1295555210
Fund Size (Mil)
11/12/2018
 
USD 3669,99
Share Class Size (Mil)
11/12/2018
 
USD 424,46
Entrata (max)
 
5,25%
Spese correnti
27/08/2018
 
0,87%
Analyst Report
Capital Group New Perspective's time-tested focus on firms benefiting from changing global trade patterns merits a Morningstar Analyst Ratings of Gold.Current worries over the impact of tariffs are not new to this strategy. Born in the early...
Clicca qui per leggere l'analisi
Pilastri Morningstar
Persone
Positive
Società
Positive
Processo
Positive
Performance
Positive
Costi
Neutral
Obiettivo d'Investimento Dichiarato: Capital Group New Perspective Fund (LUX) Z
The fund's primary investment objective is to achieve long-term growth of capital by investing in common stocks of companies located around the world. Future income is a secondary objective.
Rendimenti % (EUR)
| | |
| --- | --- |
| Rendimenti % (EUR) | 11/12/2018 |
| YTD | 1,98 |
| 3-Anni Ann.ti | 7,09 |
| 5-Anni Ann.ti* | 11,29 |
| 10-Anni Ann.ti* | 13,65 |
Gestione
Nome del Gestore
Inizio Gestione
Robert Lovelace
30/10/2015
Jonathan Knowles
30/10/2015
Click here to see others
Data di Partenza
30/10/2015
Indice
Benchmark Dichiarato
Indice di Categoria Morningstar
MSCI ACWI NR USD
MSCI World Growth NR USD
Target Market
Role In Portfolio
Standalone / Core
Non specifico
Component
Non specifico
Altro
Non specifico
Primary Objective
Conservazione
Non specifico
Growth
Si
Reddito
Non specifico
Hedging
Non specifico
Altro
Non specifico
Composizione del Fondo  Capital Group New Perspective Fund (LUX) Z
30/11/2018
Morningstar Style Box®
Stile Azionario
Asset Allocation
 
% Lunga
% Corta
% Netta
Azioni
90,85
0,00
90,85
Obbligazioni
0,00
0,00
0,00
Liquidità
7,32
0,00
7,32
Altro
1,83
0,00
1,83
| | |
| --- | --- |
| Prime 5 Regioni | % |
| Stati Uniti | 55,95 |
| Europa Occidentale - Euro | 9,47 |
| Asia - Paesi Sviluppati | 7,97 |
| Regno Unito | 6,81 |
| Europa Occidentale - Non Euro | 6,48 |
Primi 5 Settori
%
Tecnologia
24,99
Beni di consumo ciclici
17,56
Finanza
15,26
Salute
10,79
Beni di consumo difensivi
9,44