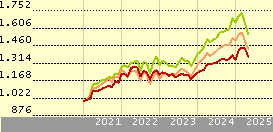 Fondo
17,3
3,8
6,5
12,0
0,9
+/-Cat
-0,3
3,8
-5,1
-3,3
0,3
+/-Ind
-2,3
6,2
-7,6
-9,2
0,1
 
Benchmark & Indici: MSCI World NR USD
Sintesi
NAV
07/03/2014
 
EUR 126,370
Var.Ultima Quotazione
 
-0,44%
Categoria Morningstar™
 
Azionari Globali - Reddito
Categoria Assogestioni
 
Azionari internazionali
Isin
 
LU0507266061
Fund Size (Mil)
07/03/2014
 
EUR 2446,27
Share Class Size (Mil)
07/03/2014
 
EUR 500,54
Entrata (max)
 
5,00%
Total Expense Ratio
31/12/2012
 
1,65%

*  Questa analisi è stata scritta per una differente classe dello stesso fondo, per cui potrebbero esserci differenze nel rendimento e nel profilo commissionale.
DWS Invest Top Dividend remains a favourite.

Thomas Schüssler will soon have been managing this dividend strategy for eight years. His experience and the resources he has at his disposal mean that investors are in good hands here.

The aim of the...
Clicca qui per leggere l'analisi
Obiettivo d'Investimento Dichiarato: DWS Invest Top Dividend LD
The objective of the investment policy is to achieve an above average return. At least 70% of the sub-fund's assets are invested in equities of domestic as well as foreign issuers that are expected to deliver an above-average dividend yield. When selecting equities, the following criteria shall be of decisive importance: dividend yield above the market average; sustainability of dividend yield and growth; historical and future earnings growth; price/earnings ratio. In addition to these criteria, the proven stock-picking process of the Fund Manager will be applied. This means that a company's fundamental data, such as asset quality, management skills, profitability, competitive position and valuation, are analyzed. These criteria may be weighted differently and do not always have to be present at the same time.
Returns
| | |
| --- | --- |
| Rend. Cumulati % | 07/03/2014 |
| YTD | 0,59 |
| 3-Anni Ann.ti | 7,72 |
| 5-Anni Ann.ti | 15,80 |
| 10-Anni Ann.ti | 7,50 |
| | | |
| --- | --- | --- |
| Yield a 12 mesi |   | 3,00 |
| Pagamento dividendo (freq.) |   | Annually |
Gestione
Nome del Gestore
Inizio Gestione
Oliver Pfeil
01/04/2013
Thomas Schüssler
01/07/2010
Data di Partenza
01/07/2010
Benchmark & Indici
Benchmark Dichiarato
Benchmark Morningstar
-
MSCI World NR USD
Composizione del Fondo  DWS Invest Top Dividend LD
31/01/2014
Morningstar Style Box®
Stile Azionario
Asset Allocation
 
% Lunga
% Corta
% Netta
Azioni
95,09
0,00
95,09
Obbligazioni
0,00
0,00
0,00
Liquidità
3,73
0,00
3,73
Altro
1,18
0,00
1,18
| | |
| --- | --- |
| Prime 5 Regioni | % |
| Stati Uniti | 38,73 |
| Europa Occidentale - Euro | 17,85 |
| Regno Unito | 13,47 |
| Europa Occidentale - Non Euro | 12,23 |
| Canada | 9,33 |
Primi 5 Settori
%
Dati Non Disponibili