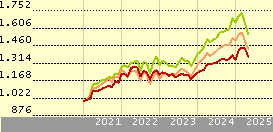 Sintesi
NAV
27/06/2016
 
EUR 159,100
Var.Ultima Quotazione
 
-1,00%
Categoria Morningstar™
 
Azionari Globali - Reddito
Categoria Assogestioni
 
Azionari internazionali
Isin
 
LU0507266061
Fund Size (Mil)
27/06/2016
 
EUR 4222,59
Share Class Size (Mil)
27/06/2016
 
EUR 804,80
Entrata (max)
 
5,00%
Spese correnti
31/03/2016
 
1,58%
Analyst Report
By focussing on quality companies that are able to pay out sustainable and preferably growing dividends, while managing downside risks carefully, this fund fits well as a core holding in an investors' portfolio. The experienced Thomas Schüssler...
Clicca qui per leggere l'analisi
Pilastri Morningstar
Persone
Positive
Società
Neutral
Processo
Positive
Performance
Positive
Costi
Positive
Obiettivo d'Investimento Dichiarato: Deutsche Invest I Top Dividend LD
Obiettivo della politica del comparto è il conseguimento di un rendimento superiore alla media. Almeno il 70% del patrimonio del comparto sarà investito in azioni di emittenti nazionali ed esteri che potrebbero offrire un rendimento azionario superiore alla media, in base alle previsioni.
Rendimenti % (EUR)
| | |
| --- | --- |
| Rendimenti % (EUR) | 27/06/2016 |
| YTD | 1,38 |
| 3-Anni Ann.ti | 11,25 |
| 5-Anni Ann.ti | 11,19 |
| 10-Anni Ann.ti* | 7,26 |
Gestione
Nome del Gestore
Inizio Gestione
Thomas Schüssler
01/07/2010
Stephan Werner
01/02/2015
Data di Partenza
01/07/2010
Benchmark di Categoria
Benchmark Dichiarato
Benchmark Morningstar
Not Benchmarked
MSCI World High Dividend Yield NR USD
Composizione del Fondo  Deutsche Invest I Top Dividend LD
30/04/2016
Morningstar Style Box®
Stile Azionario
Asset Allocation
 
% Lunga
% Corta
% Netta
Azioni
87,52
0,00
87,52
Obbligazioni
3,85
0,00
3,85
Liquidità
8,63
0,00
8,63
Altro
0,00
0,00
0,00
| | |
| --- | --- |
| Prime 5 Regioni | % |
| Stati Uniti | 47,36 |
| Europa Occidentale - Euro | 14,59 |
| Europa Occidentale - Non Euro | 11,08 |
| Regno Unito | 8,81 |
| Giappone | 6,87 |
Primi 5 Settori
%
Beni di consumo difensivi
29,39
Servizi alla comunicazione
15,16
Salute
13,71
Servizi di pubblica utilità
10,38
Finanza
9,78