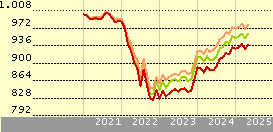 Sintesi
NAV
24/06/2016
 
EUR 149,760
Var.Ultima Quotazione
 
-0,15%
Categoria Morningstar™
 
Obbligazionari Corporate EUR
Categoria Assogestioni
 
Obbligazionari euro corporate investment grade
Isin
 
LU0451950314
Fund Size (Mil)
31/05/2016
 
EUR 3070,73
Share Class Size (Mil)
24/06/2016
 
EUR 804,03
Entrata (max)
 
5,00%
Spese correnti
18/03/2016
 
1,17%
Analyst Report
This fund continues to be an attractive choice for long-term credit investors.

Tom Ross took over the day-to-day duties for the fund after former manager Chris Bullock's departure from Henderson at year-end 2015; Stephen Thariyan continues to...
Clicca qui per leggere l'analisi
Pilastri Morningstar
Persone
Positive
Società
Neutral
Processo
Positive
Performance
Positive
Costi
Negative
Obiettivo d'Investimento Dichiarato: Henderson Horizon Fund - Euro Corporate Bond Fund A2 EUR Acc
L'obiettivo di investimento dell'Euro Corporate Bond Fund è fornire un rendimento totale superiore a quello generato dall'indice iBoxx Euro Corporates, investendo principalmente in obbligazioni corporate investment grade inEUR e in altri titoli a tasso fisso e variabile. Il Comparto può utilizzare per conseguire il proprio obiettivo senza limitazione, forward rate notes, contratti forward su valuta (inclusi non-deliverable forwards), futures su tassi d'interesse, futures obbligazionari e swap OTC. Si prevede che il livello di indebitamento del Comparto sarà il 50% del Valore del patrimonio netto del Comparto basato sulla somma delle esposizioni ipotetiche degli strumenti finanziari derivati negli investimenti degli portafoglio, comprese quelle detenute ai fini della riduzione del rischio. Questo livello di indebitamento varia col tempo e può aumentare in alcune condizioni del mercato per assicurare che venga centrato l'obiettivo d'investimento del comparto.
Rendimenti % (EUR)
| | |
| --- | --- |
| Rendimenti % (EUR) | 24/06/2016 |
| YTD | 2,80 |
| 3-Anni Ann.ti | 4,10 |
| 5-Anni Ann.ti | 5,68 |
| 10-Anni Ann.ti | - |
Gestione
Nome del Gestore
Inizio Gestione
Stephen Thariyan
18/12/2009
Thomas Ross
18/12/2009
Data di Partenza
18/12/2009
Benchmark di Categoria
Benchmark Dichiarato
Benchmark Morningstar
Markit iBoxx EUR Corp TR
Barclays Euro Agg Corps TR EUR
Composizione del Fondo  Henderson Horizon Fund - Euro Corporate Bond Fund A2 EUR Acc
29/02/2016
Reddito Fisso
Maturity effettiva
-
Duration Effettiva
-
Morningstar Style Box®
Reddito Fisso
Asset Allocation
 
% Lunga
% Corta
% Netta
Azioni
0,00
0,00
0,00
Obbligazioni
93,91
3,71
90,20
Liquidità
21,36
13,88
7,47
Altro
2,62
0,29
2,33