ING Direct Profilo Dinamico Arancio PAcc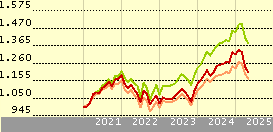 Fondo
7,0
-8,9
11,9
8,5
2,4
+/-Cat
1,2
-2,9
3,3
2,0
1,2
+/-Ind
-4,3
-9,2
-1,3
-2,0
0,9
 
Benchmark & Indici: Cat 50%Barclays EurAgg TR&5...
Sintesi
NAV
11/03/2014
 
EUR 63,330
Var.Ultima Quotazione
 
-0,27%
Categoria Morningstar™
 
Bilanciati Moderati EUR - Globali
Categoria Assogestioni
 
Bilanciati azionari
Isin
 
LU0456302933
Fund Size (Mil)
11/03/2014
 
EUR 13,34
Share Class Size (Mil)
11/03/2014
 
EUR 13,34
Entrata (max)
 
-
Total Expense Ratio
30/11/2012
 
1,60%
Obiettivo d'Investimento Dichiarato: ING Direct Profilo Dinamico Arancio PAcc
The sub-fund is invested in a diversified portfolio of equities, bonds, money market instruments and ancillary cash directly or through the investment in other UCITS and/or UCI. The Fund reflects a diversified allocation of approximately 60% in equity securities, 30% in fixed income and 10% in cash. However, the actual allocations of the Fund's assets may very significantly deviate from the percentages above-mentioned, given the investment strategy implemented in the Fund and the market movements affecting its constituents. The sub-fund may invest additionally in transferable securities (including warrants on transferable securities up to a maximum of 10% of the subfund's net assets), in money market instruments, in 144A securities, in units of UCITS and other UCIs and in deposits.
Returns
| | |
| --- | --- |
| Rend. Cumulati % | 11/03/2014 |
| YTD | 2,08 |
| 3-Anni Ann.ti | 4,15 |
| 5-Anni Ann.ti | - |
| 10-Anni Ann.ti | - |
Gestione
Nome del Gestore
Inizio Gestione
-
-
Data di Partenza
02/11/2009
Benchmark & Indici
Benchmark Dichiarato
Benchmark Morningstar
Not Benchmarked
Cat 50%Barclays EurAgg TR&50%FTSE Wld TR
Composizione del Fondo  ING Direct Profilo Dinamico Arancio PAcc
31/12/2013
Morningstar Style Box®
Stile Azionario
Morningstar Style Box®
Reddito Fisso

Asset Allocation
 
% Lunga
% Corta
% Netta
Azioni
66,23
0,00
66,23
Obbligazioni
31,39
0,00
31,39
Liquidità
1,86
0,01
1,86
Altro
2,13
1,60
0,53
Reddito Fisso
Maturity effettiva
-
Duration Effettiva
-

| | |
| --- | --- |
| Prime 5 Regioni | % |
| Europa Occidentale - Euro | 43,40 |
| Stati Uniti | 30,51 |
| Regno Unito | 13,93 |
| Giappone | 7,77 |
| Europa Occidentale - Non Euro | 1,81 |
Primi 5 Settori
%
Dati Non Disponibili