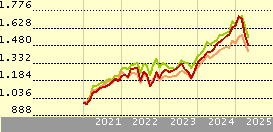 Sintesi
NAV
22/10/2019
 
EUR 10,299
Var.Ultima Quotazione
 
0,80%
Categoria Morningstar™
 
Azionari Globali - Reddito
Categoria Assogestioni
 
Azionari internazionali
Isin
 
LU1670710232
Fund Size (Mil)
21/10/2019
 
EUR 2215,36
Share Class Size (Mil)
21/10/2019
 
EUR 239,09
Entrata (max)
 
1,25%
Spese correnti
01/10/2019
 
0,97%
Analyst Report
M&G (Lux) Global Dividend is one of our favourite growth-oriented dividend funds, earning a Morningstar Analyst Rating of Silver.The fund benefits from the talent and experience of lead manager Stuart Rhodes. He has run the fund since its July...
Clicca qui per leggere l'analisi
Pilastri Morningstar
Persone
Positive
Società
Neutral
Processo
Positive
Performance
Positive
Costi
Neutral
Obiettivo d'Investimento Dichiarato: M&G (Lux) Investment Funds 1 - M&G (Lux) Global Dividend Fund C EUR Acc
The Fund has two aims:  to deliver a higher total return (the combination of capital growth and income) than that of the global equities markets over any five-year period and;  to deliver an income stream that increases every year in US Dollar terms. The Fund invests at least 80% of its Net Asset Value in the equity securities of companies across any sector and market capitalisation that are domiciled in any country, including emerging markets. The Fund usually holds fewer than 50 stocks.
Rendimenti % (EUR)
| | |
| --- | --- |
| Rendimenti % (EUR) | 22/10/2019 |
| YTD | 16,61 |
| 3-Anni Ann.ti* | 7,85 |
| 5-Anni Ann.ti* | 7,88 |
| 10-Anni Ann.ti* | 11,23 |
Gestione
Nome del Gestore
Inizio Gestione
Stuart Rhodes
30/07/2018
Data di Partenza
20/09/2018
Indice
Benchmark Dichiarato
Indice di Categoria Morningstar
MSCI ACWI NR USD
MSCI World High Dividend Yield NR USD
Target Market
Role In Portfolio
Standalone / Core
Non specifico
Component
Non specifico
Altro
Non specifico
Primary Objective
Conservazione
Non specifico
Growth
Si
Reddito
Si
Hedging
Non specifico
Altro
Non specifico
Composizione del Fondo  M&G (Lux) Investment Funds 1 - M&G (Lux) Global Dividend Fund C EUR Acc
31/08/2019
Morningstar Style Box®
Stile Azionario
Asset Allocation
 
% Lunga
% Corta
% Netta
Azioni
99,39
0,00
99,39
Obbligazioni
0,00
0,00
0,00
Liquidità
0,61
0,00
0,61
Altro
0,00
0,00
0,00
| | |
| --- | --- |
| Prime 5 Regioni | % |
| Stati Uniti | 42,27 |
| Regno Unito | 15,64 |
| Canada | 15,40 |
| Europa Occidentale - Non Euro | 9,82 |
| Asia - Paesi Sviluppati | 6,25 |
Primi 5 Settori
%
Finanza
18,00
Beni di consumo ciclici
16,91
Salute
16,57
Beni di consumo difensivi
13,69
Tecnologia
13,68