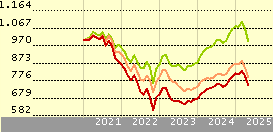 Sintesi
NAV
03/07/2020
 
USD 8,190
Var.Ultima Quotazione
 
0,12%
Categoria Morningstar™
 
Obbligazionari High Yield Asia
Categoria Assogestioni
 
Obbligazionari internazionali high yield
Isin
 
LU1282649901
Fund Size (Mil)
03/07/2020
 
EUR 766,31
Share Class Size (Mil)
03/07/2020
 
USD 295,55
Entrata (max)
 
5,00%
Spese correnti
17/04/2020
 
1,55%
Analyst Report
While the strategy is helmed by an experienced portfolio manager, the investment process has recently undergone changes around risk limits and position sizing. While these tweaks seem sensible, we have reservations around the manager's discipline...
Clicca qui per leggere l'analisi
Pilastri Morningstar
Persone
Average
Società
Average
Processo
Average
Performance
Costi
Obiettivo d'Investimento Dichiarato: Allianz Global Investors Fund - Allianz Dynamic Asian High Yield Bond AMg USD
The investment objective is to provide investors with long-term capital appreciation and income. The Sub-Fund will seek to achieve its investment objective through investing primarily in USD denominated Asian debt markets. The investment policy is geared towards generating annualised returns while taking into account the opportunities and risks in Asian Bond markets. The Investment Manager has discretion to actively manage the duration of the Sub-Fund's underlying interest-bearing securities in order to react in a dynamic way to the opportunities of a changing interest rate environment.
Rendimenti % (EUR)
| | |
| --- | --- |
| Rendimenti % (EUR) | 03/07/2020 |
| YTD | -4,90 |
| 3-Anni Ann.ti | -0,73 |
| 5-Anni Ann.ti | - |
| 10-Anni Ann.ti | - |
Gestione
Nome del Gestore
Inizio Gestione
Mark Tay
03/10/2014
Cheng Soon Tan
03/10/2014
Data di Partenza
25/09/2015
Indice
Benchmark Dichiarato
Indice di Categoria Morningstar
JPM ACI Non Investment Grade TR USD
JPM ACI Non Investment Grade TR USD
Target Market
Role In Portfolio
Standalone / Core
Non specifico
Component
Non specifico
Altro
Non specifico
Primary Objective
Conservazione
Non specifico
Growth
Si
Reddito
Si
Hedging
Non specifico
Altro
Non specifico
Composizione del Fondo  Allianz Global Investors Fund - Allianz Dynamic Asian High Yield Bond AMg USD
31/05/2020
Reddito Fisso
Maturity effettiva
3,16
Duration Effettiva
2,26
Morningstar Style Box®
Reddito Fisso
Asset Allocation
 
% Lunga
% Corta
% Netta
Azioni
0,00
0,00
0,00
Obbligazioni
108,19
14,89
93,30
Liquidità
48,41
42,83
5,58
Altro
1,12
0,00
1,12