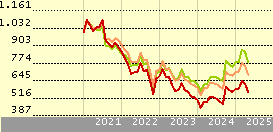 Sintesi
NAV
05/02/2016
 
USD 38,320
Var.Ultima Quotazione
 
-1,17%
Categoria Morningstar™
 
Azionari Cina
Categoria Assogestioni
 
Azionari paese
Isin
 
LU0051755006
Fund Size (Mil)
05/02/2016
 
USD 1032,78
Share Class Size (Mil)
05/02/2016
 
USD 827,85
Entrata (max)
 
5,00%
Spese correnti
01/01/2016
 
1,81%
Analyst Report
We have put JPMorgan China under review following a lead manager change. Effective 1 Jan 2016, Howard Wang will replace Song Shen as key decision-maker. We know Wang from his successful JPMorgan Greater China, which he will continue to manage....
Clicca qui per leggere l'analisi
Pilastri Morningstar
Persone
Società
Positive
Processo
Performance
Costi
Positive
Obiettivo d'Investimento Dichiarato: JPMorgan Funds - China Fund A (dist) - USD
Mira ad offrire la crescita a lungo termine del capitale investendo soprattutto in società della Repubblica Popolare Cinese, comprese quelle aziende aventi la propria sede o comunque operanti in Cina che siano quotate alla borsa di Hong Kong o in altre borse estere.
Rendimenti % (EUR)
| | |
| --- | --- |
| Rendimenti % (EUR) | 05/02/2016 |
| YTD | -18,55 |
| 3-Anni Ann.ti | 1,43 |
| 5-Anni Ann.ti | -0,80 |
| 10-Anni Ann.ti | 7,12 |
Gestione
Nome del Gestore
Inizio Gestione
Song Shen
01/01/2016
Howard Wang
01/01/2016
Data di Partenza
04/07/1994
Benchmark di Categoria
Benchmark Dichiarato
Benchmark Morningstar
MSCI China 10/40 NR USD
MSCI China NR USD
Composizione del Fondo  JPMorgan Funds - China Fund A (dist) - USD
31/12/2015
Morningstar Style Box®
Stile Azionario
Asset Allocation
 
% Lunga
% Corta
% Netta
Azioni
99,10
0,00
99,10
Obbligazioni
0,00
0,00
0,00
Liquidità
0,90
0,00
0,90
Altro
0,00
0,00
0,00
| | |
| --- | --- |
| Prime 5 Regioni | % |
| Asia - Emergente | 96,59 |
| Asia - Paesi Sviluppati | 3,41 |
| Stati Uniti | 0,00 |
| Giappone | 0,00 |
| Australasia | 0,00 |
Primi 5 Settori
%
Finanza
35,40
Tecnologia
13,75
Beni di consumo ciclici
13,21
Beni industriali
10,99
Servizi alla comunicazione
7,78